Filkete writes:
Location
Close to Camden Town
Getting There
Not as easy to get to as some… that's why it's better.
Greenery/Vegetation
The quality of the grass was pretty good, but for some reason it made my arse so itchy that I had to keep changing position. The grass was short in some areas and wild in some others which is just the way I like.
Add-Ons ("Beyond The Greenery")
It's a bit of effort to get up to the hill, but once you get there the view of London makes it worth doing anything for it, and of course the wind it's so amazing especially if it's a nice hot day. It gives you sense of freedom while the wind caresses your head with a soft gentle touch. Maybe you won't feel the same for the wind as I do, because I just love it.
Atmosphere
It's very calming. There are a variety of people, mostly young couples and some families. The best thing about this park is no one plays football in it, I guess because it's a hilly park. Isn't it so annoying, when you go to a park to chill and you're in danger of a ball hitting your head? Very anti-relaxing.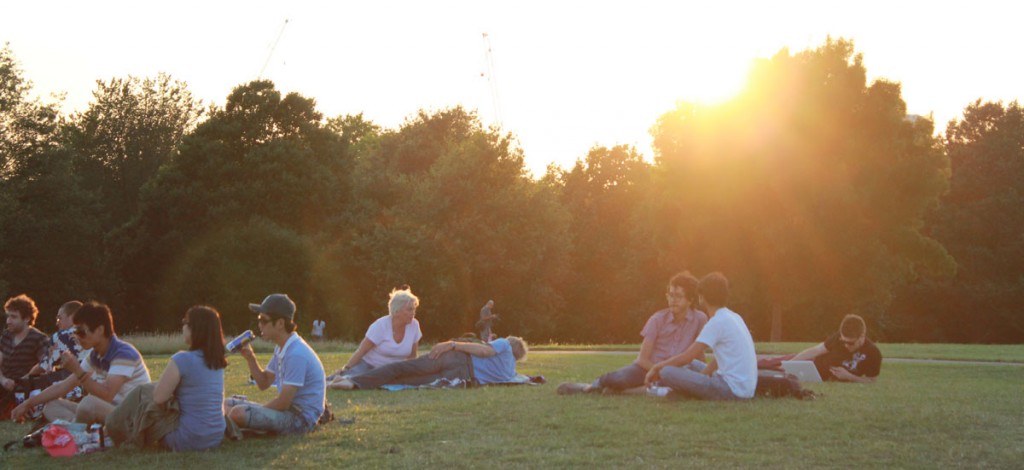 Tips, Tricks & Traps
When you get there don't run up to the hill, sit down for 10 minutes then walk slowly until you reach the summit and you'll feel the difference and appreciate more, and you'll see how amazing the wind can make you feel, away from all the worries and stress, just the pleasure of being yourself.
Timmy writes:
Greenery/Vegetation
A lush vast single field that spreads over a large hill. Excellent, thick lawn. Mostly long cut grass but also a fair amount of wilder patches to lie back in and feel a little bit 'country'. Some average sized park trees dotted about at the lower end of the hill.
Add-Ons ("Beyond The Greenery")
There is a kids' play area and bowling green at the bottom of the hill, but other than that, not much else. Except, of course…the best view of London!
Atmosphere
We went there on a warm summer evening and it had a chilled laid back atmosphere but its always felt laid back there. As soon as you climb the hill and sit at the stony top benches you get this breeze and little or no traffic sound, the combination of the vista of central London and the silence gives you a feeling of rising out of the busy town and peering back in from a calm bubble.
A great park in a great location. Ideal picnic or romantic getaway.
Tips, Tricks & Traps
The only tip for this park is obviously go to the top – unless suffering from severe leg or hip pains. Wheelchairs be warned, it's steep!
Additional info
A cool gallery nearby called "The Museum Of Everything".